While everyone is talking keys to the big game and what each team needs to do to secure that championship, we're here to talk about stadium safety. Discover the tools and technology local law enforcement and stadium execs can use to prep, manage and secure attendees on game day.
The logistics of game day operations
The sheer volume of people alone triggers logistical issues.  Aspects such as traffic flow, parking and entry maintenance can cause significant delays impacts to the day.  Add additional hiccups and things could quickly derail – think the Atlanta Falcons in 2017 – but in terms of things such as medical emergencies, player and team security or dangerous weather conditions.  
So how do stadiums manage big events? By implementing a suite of real-time intelligence tools to get a constant feed of the latest updates to make informed decisions on-the-go.  
Brite's playbook of intel tools for stadium safety
Live Earth
Live Earth's geospatial technology provides situational awareness and real-time insights by integrating multiple data feeds on a single screen.  Data allows for stadium personnel to manage all incidents from one spot, while staying connected to those posted in different areas.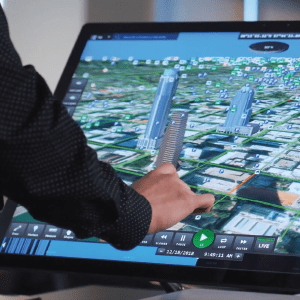 Potential feeds include:
Weather
 Parking Garages
CAD systems
AeroDefense 
AeroDefense is a drone detection program enabling the tracking of drones and incidents.  In the past, stadiums have been targets of drone infiltration.  Unauthorized drones create disruption and potential safety concerns for attendees. AirWarden has the capabilities to detect the drone and pilot to ensure there are no future incidents.  
BriefCam 
Take video analytics up a level with BriefCam.  BriefCam's Video Content Analytics solution provides real-time, actionable intelligence.  Based off attributes (face, gender, clothing color, direction), the platform can identity people and vehicles across multiple cameras.  Establish alerts to notify in real-time of suspicious behavior for optimum situational awareness.  Utilize the platform to manage and proactively prevent traffic hiccups.  
Implementing a suite of tools gives the event crew real-time, actionable intelligence to keep attendees safe and ensure smooth operations.  Take an offensive approach to stadium and event security today and find what solution set works for your needs! 
---